Professional LVT LVP SPC Vinyl flooring Manufacturer | Private Label&Contract Manufacturing
SPC Flooring Manufacturer
Rigid Core SPC Flooring is a particularly new product in the flooring industry.It not only gathers most of the current flooring material, but also provides better performance of being waterproof, rigid, dimensionally stable, and relatively environmentally friendly.
Thus it can be safely used in areas with sustained exposure to moisture, such as bathroom, laundry room and kitchen. With good rigidity, Rigid Core SPC Flooring provides a quieter, warmer vinyl flooring with a cushioned backing attached, thus eliminating the imperfections from the subfloor which is normally transferred through LVT. Rigid Core SPC Flooring is available with locking system.
Wholesale SPC Flooring
Impressively durable and 100% worry-free. The innovative engineering behind our toughest designs make sure your floor is ready for whatever lands on it. Each plank is constructed with a solid stone-plastic composite and layered with an enhanced lacquer finish. The result is a strikingly beautiful floor that's dent-proof, pet-proof, kid-proof, and waterproof.
100%

Dent-Proof

100%

Waterproof

100%

Kid-& Pet-Proof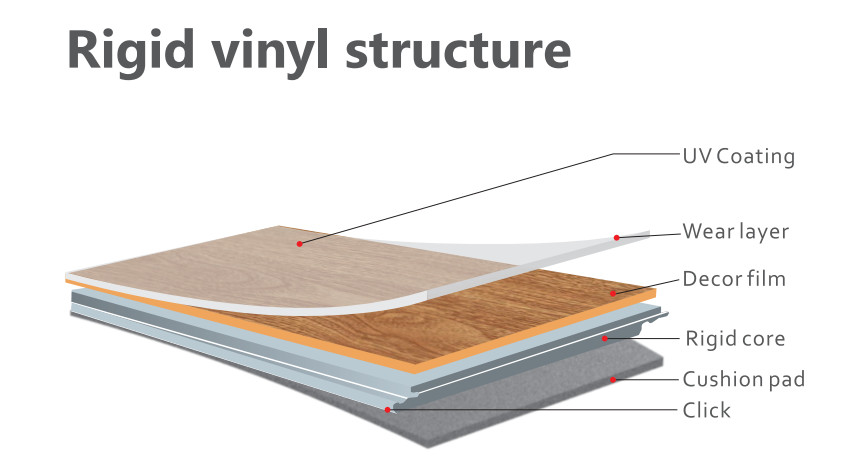 100% WATERPROOF

100% MAXIMUM SCRATCH PROTECTION

LIFETIME WARRANTY
Premium waterproof vinyl flooring.Commercial-grade Durability. Bulit for demanding Environments.
Buy now
Wholesale SPC Flooring

Fast Service
UltraSurface's strong supply chain, perfect warehousing and logistics system, and quick response team provide you with worry-free services.
Rigid Core SPC Vinyl Flooring Manufacturer
18 years focus on vinyI flooring industry, 12 years Alibaba Golden Supplier,87% of our products exported to West Europe & North America countries.UltraSurface is always pursuing bring Water-proofing / VoC-free / Kids-free / Pets-fre Eco-friendly vinyl fooring to world-wide market.
Netherlands, UK, Canada, Norway, Australia,etc. UltraSurface product series cover both residential use and high end level commercial use with authentic & HD appears of wood planks and stone tiles.
Why choose UltraSurface Rigid Core SPC Flooring
Rigid Core SPC Flooring is now available in a life-proof, 100% waterproof solution. UltraSurface Rigid Core SPC Flooring is a highly durable and waterproof flooring option that is suitable for any room in the house, including basements, sunrooms, and full bathrooms. Plus, its rigid stone-based core makes each plank dent-resistant and scratch-resistant, it is perfect for high-traffic areas.
UltraSurfaceRigid Core SPC Flooring is the best solution for commercial flooring.Combining the strength of stone and luxury of wood design.Rigid Core SPC Flooring has high impact resistance.Great dimensional stability.HanHent Rigid Core SPC Flooring can bear the temperature difference from -75℃ to 80℃ and the shrinkage≤0.002%,curling≤0.01mm with EN434 standard.
What kind of service do we provide?
Providing high-quality vinyl flooring products is only a small part. When communicating with customers in depth, we became friends. We care about your concerns as much as you. After our floor is sold, we will guide the installation and maintenance of the flooring, so that you have no worries. We also promise that you have the right to free consulting products, and your vinyl flooring can enjoy lifetime warranty.
Best wholesale price with low MOQ.Free sample available.