Professional LVT LVP SPC Vinyl flooring Manufacturer | Private Label&Contract Manufacturing
Peel and Stick Vinyl Flooring Manufacturer
Peel and stick vinyl flooring(Self Adhesive) is a relatively strong material that can stand up to foot traffic and regular use. It will also fare well in spaces where you may have spills like kitchens and powder rooms. Clean-up and maintenance are easy when you choose self-adhesive vinyl flooring.
Compared to luxury vinyl products, peel and stick flooring is particularly affordable. For home renovations where cost is the number one factor, peel and stick vinyl flooring can give you the look you're after without breaking the bank. In commercial spaces, it may be a particularly good flooring option for spaces that don't see everyday foot traffic, office bathrooms and other environments where keeping costs down is a major factor.
Wholesale Peel and Stick Vinyl Flooring
In many rooms, you can install peel and stick vinyl flooring in less than an hour. Even in large spaces, you could have a room completely finished in an afternoon with minimal effort. Most of the time all you need to do is move your furniture out of the way! Peel and stick vinyl flooring doesn't require a bevy of special tools to install either. That makes installation easier and much more cost-effective.
100%

Dent-Proof

100%

DIY Friendly

100%

Kid-& Pet-Proof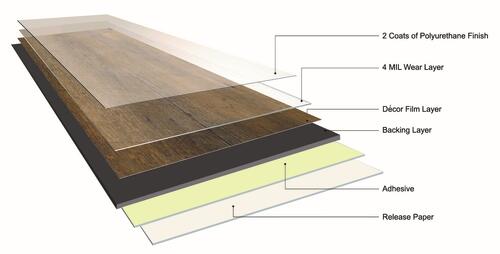 BUDGET FRIENDLY

SCRATCH PROTECTION

EASY INSTALLATION
Resilient PVC Vinyl Flooring.Affordable.Easy to Install.Durable.Easy Clean-up and Maintenance.
Buy now
Wholesale Peel and Stick Vinyl Flooring

Fast Service
UltraSurface's strong supply chain, perfect warehousing and logistics system, and quick response team provide you with worry-free services.
Peel and Stick Vinyl Flooring Manufacturer
18 years focus on vinyI flooring industry, 12 years Alibaba Golden Supplier,87% of our products exported to West Europe & North America countries.UltraSurface is always pursuing bring Water-proofing / VoC-free / Kids-free / Pets-fre Eco-friendly vinyl fooring to world-wide market.
Netherlands, UK, Canada, Norway, Australia,etc. UltraSurface product series cover both residential use and high end level commercial use with authentic & HD appears of wood planks and stone tiles.
Why choose UltraSurface Peel and Stick Vinyl Flooring
Affordable, durable, easy to install and available in a range of looks are a few of the selling points of peel and stick vinyl flooring. Clean-up and maintenance is easy when you choose self-adhesive vinyl flooring. For daily cleaning, water is generally all that's required.
Style matters in every commercial and residential space. With peel and stick vinyl flooring, you can choose from a range of looks designed to match your décor. Everything from natural hardwood to granite, marble and specialty finishes are available.This gives you the power to match existing décor and style elements or go in a new direction completely. For new building projects, the range of styles available makes it an extremely flexible option.
What kind of service do we provide?
Providing high-quality vinyl flooring products is only a small part. When communicating with customers in depth, we became friends. We care about your concerns as much as you. After our floor is sold, we will guide the installation and maintenance of the flooring, so that you have no worries. We also promise that you have the right to free consulting products, and your vinyl flooring can enjoy lifetime warranty.
Best wholesale price with low MOQ.Free sample available.