Professional LVT LVP SPC Vinyl flooring Manufacturer | Private Label&Contract Manufacturing
WPC Vinyl Flooring Manufacturer
WPC vinyl flooring is a type of high-end luxury vinyl flooring with excellent foot comfort. Choose WPC vinyl flooring,you're in for the best of the best in flooring. WPC stands for Wood Plastic Composite, meaning the core of the floorboard or tile consists of this solid, waterproof material. The term "WPC" is also used interchangeably to stand for Waterproof Core.
Just like a standard vinyl flooring, WPC vinyl flooring is waterproof and will not be damaged in the event of a spill or moisture. WPC vinyl flooring is a plank system with a glue-less locking system similar to a laminate installation. Another perk is not needing an underlayment for installation.
Wholesale WPC Vinyl Flooring
WPC has been the gold standard for vinyl flooring and features a waterproof core that's comfortable as well as functional.WPC vinyl flooring is manufactured with a wood-plastic composite backing instead of a solid PVC backing. The engineered backing combines recycled wood pulp and plastic composites to form a bond of strength and stability. This is then topped with a standard vinyl top layer. A WPC vinyl is thicker than your traditional vinyl, so you'll have a similar feel to a laminate.
100%

Dent-Proof

100%

Waterproof

100%

Kid-& Pet-Proof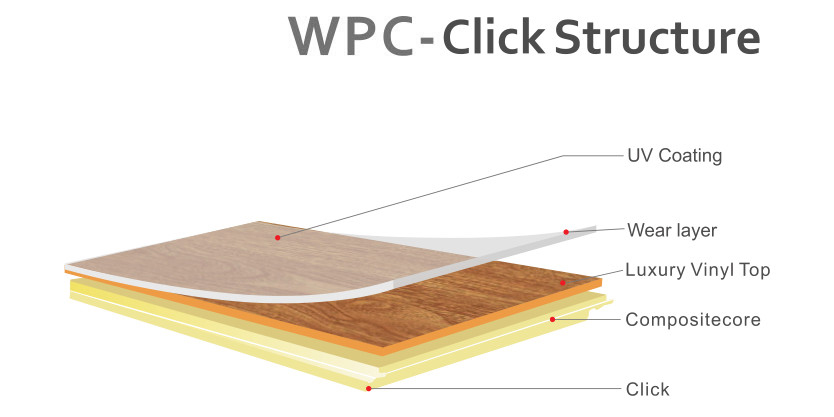 100% WATERPROOF

SCRATCH RESISTANT

LIFETIME WARRANTY
Realistic Appearance WPC Flooring.DIY Installation.Comfort. Cost Affordability.Easy Maintenance and Cleaning.
Buy now
Wholesale WPC Vinyl Flooring

Fast Service
UltraSurface's strong supply chain, perfect warehousing and logistics system, and quick response team provide you with worry-free services.
WPC Vinyl Flooring Manufacturer
18 years focus on vinyI flooring industry, 12 years Alibaba Golden Supplier,87% of our products exported to West Europe & North America countries.UltraSurface is always pursuing bring Water-proofing / VoC-free / Kids-free / Pets-fre Eco-friendly vinyl fooring to world-wide market.
Netherlands, UK, Canada, Norway, Australia,etc. HanHent product series cover both residential use and high end level commercial use with authentic & HD appears of wood planks and stone tiles.
Why choose UltraSurface WPC Vinyl Flooring
WPC vinyl flooring stands for Wood Plastic Composite. These 100% waterproof engineered luxury vinyl planks and tiles are DIY-friendly, featuring an effortless interlocking system that can be installed over most existing subfloors. WPC vinyl flooring is extraordinarily durable and known for its gorgeous, realistic aesthetic.
UltraSurface WPC vinyl flooring is a modern marvel that's suited to high-traffic commercial spaces and even residential designs. Soft under-foot, yet waterproof and incredibly durable, WPC vinyl can last for many years even in the busiest spaces like bank lobbies, restaurant entry areas and home mud rooms, gyms and spa spaces.
What kind of service do we provide?
Providing high-quality vinyl flooring products is only a small part. When communicating with customers in depth, we became friends. We care about your concerns as much as you. After our floor is sold, we will guide the installation and maintenance of the flooring, so that you have no worries. We also promise that you have the right to free consulting products, and your vinyl flooring can enjoy lifetime warranty.
Best wholesale price with low MOQ.Free sample available.