Professional LVT LVP SPC Vinyl flooring Manufacturer | Private Label&Contract Manufacturing
Loose Lay Vinyl Flooring Manufacturer
Loose lay vinyl flooring have come about as a popular variety of vinyl plank flooring which is mostly known for its installation. A modified loose lay vinyl flooring has a fiberglass backing and doesn't require adhesive. Non-skid backing to prevent planks from moving once set in place.
It's 100% Waterproof! The best option for a regularly wet floor. That's true whether the moisture comes down from above, or seeps up from below, as can happen in some basements. Loose lay vinyl plank flooring is designed to keep moisture and water above the floor long enough that it can be cleaned up before getting through to the subfloor. Even if it does, or if water comes up under the planks, they can be pulled right up, only in the spots where needed, the floor can be dried out, and then the same planks will just lay back into place.
Wholesale Loose Lay Vinyl Flooring
Loose lay vinyl flooring are a unique product that doesn't rely on any fasteners, adhesive or even tongue and groove mechanisms to hold themselves in place. These thick vinyl rectangles simply lay in position on a floor, and remain there once installed. Loose lay vinyl flooring goes down quickly and it relies on friction to remain in place over time. The planks are essentially thick vinyl rectangles with rubber backing that lay flat over a nice smooth surface.
100%

Dent-Proof

100%

Waterproof

100%

Kid-& Pet-Proof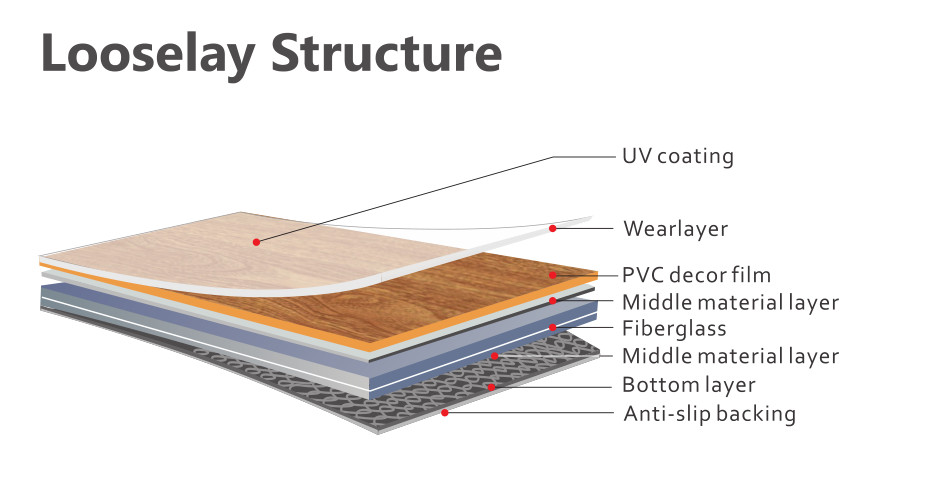 100% WATERPROOF

100% SCRATCH PROTECTION

LIFETIME WARRANTY
Resilient Vinyl Flooring.Simple Installation.Won't Expand Or Contract. High Durability.Absorbs Sound.Comfortable.
Buy now
Wholesale Loose Lay Vinyl Flooring

Fast Service
UltraSurface's strong supply chain, perfect warehousing and logistics system, and quick response team provide you with worry-free services.
Loose Lay Vinyl Flooring Manufacturer
18 years focus on vinyI flooring industry, 12 years Alibaba Golden Supplier,87% of our products exported to West Europe & North America countries.UltraSurface is always pursuing bring Water-proofing / VoC-free / Kids-free / Pets-fre Eco-friendly vinyl fooring to world-wide market.
Netherlands, UK, Canada, Norway, Australia,etc.UltraSurface product series cover both residential use and high end level commercial use with authentic & HD appears of wood planks and stone tiles.
Why choose UltraSurface Loose Lay Vinyl Flooring
Loose lay vinyl flooring can be installed over top of existing flooring very rapidly and it's simple for just about anyone to do. That's why so many people are interested in this type of flooring and it's the main reason that loose lay vinyl flooring is popular as well.
Loose lay vinyl flooring has developed to reduce installation time and allow access to underfloor utilities. Under the right conditions these tiles can be placed on the subfloor without any adhesive. This helps to make them an easy installation option for anyone and everyone. We offer a range of loose lay floors for both commercial settings and domestic properties.
What kind of service do we provide?
Providing high-quality vinyl flooring products is only a small part. When communicating with customers in depth, we became friends. We care about your concerns as much as you. After our floor is sold, we will guide the installation and maintenance of the flooring, so that you have no worries. We also promise that you have the right to free consulting products, and your vinyl flooring can enjoy lifetime warranty.
Best wholesale price with low MOQ.Free sample available.