Global Vinyl Flooring Market 2018-2022 | Implementation of Augmented Reality Drives Growth
LONDON--(BUSINESS WIRE)--Technavio's global vinyl flooring market research report forecasts the market to grow at a CAGR of over 5% during the forecast period.
The implementation of augmented reality (AR) in the flooring industry will be one of the major trends in the global vinyl flooring market during 2018-2022. Previously, when a customer ordered a sample of flooring material online, the sample would be so small that it made it difficult for the customer to visualize how the floor would look after installation. But with the introduction of AR floor visualizer applications in the flooring industry, the consumers can modify the design of rooms or homes without the need to view samples physically. Some major flooring vendors have also been leveraging AR and VR technologies on their websites.

Global vinyl flooring market: Low cost and easy maintenance
LVT
is cost-effective by almost thrice the price of hardwood flooring. One has to spend a significant amount in treating and refinishing the hardwood to maintain it properly. The cost of hardwood raw material is also high when compared with LVT, for which PVC and calcium carbonate are usually used. Commercial builders prefer LVT as LVT is durable and can withstand high-traffic areas.
According to a senior research analyst at Technavio, "The maintenance of LVT is easier than hardwood floors. Hardwood flooring requires regular maintenance checks, whereas LVT does not. Furthermore, LVT can be installed more quickly than hardwood flooring. Therefore, commercial and residential builders prefer LVT over other hardwood flooring. The low cost and easy maintenance of LVT will drive the growth of the global vinyl flooring market."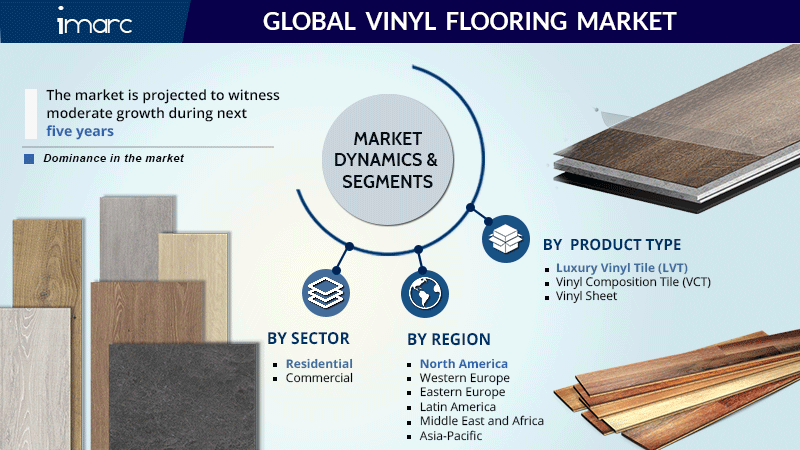 Global vinyl flooring market: Segmentation analysis
This global vinyl flooring market analysis report provides market segmentation by end-user (residential and commercial), and by region (the Americas, APAC, and EMEA). This report provides an in-depth analysis of the prominent factors influencing the market, including drivers, opportunities, trends, and industry-specific challenges.
Of the two major end-users, the residential segment held the largest vinyl flooring market share in 2017, contributing to over 50% of the market. This end-user segment will dominate the global market throughout the forecast period.
The Americas held the largest share of the market in 2017, accounting for more than 37% share. It was followed by EMEA and APAC respectively. The Americas is expected to dominate the market throughout the period 2018-2022.
Looking for more information on this market? Request a free sample report
Technavio's sample reports are free of charge and contain multiple sections of the report such as the market size and forecast, drivers, challenges, trends, and more.
Some of the key topics covered in the report include:
Market Landscape
• Market ecosystem
• Market characteristics
• Market segmentation analysis
• Market Sizing
Market definition
• Market size and forecast
• Five Forces Analysis
Market Segmentation
Geographical Segmentation
Regional comparison
• Key leading countries
• Market Drivers
Market Challenges
Market Trends
Vendor Landscape
• Vendors covered
• Vendor classification
• Market positioning of vendors
• Competitive scenario