What is the Best Flooring for Bathrooms?
What is the Best Flooring for Bathrooms?
Bathrooms need waterproof flooring

Water-resistant flooring can as the name implies, resist water.
When selecting flooring, water-resistant flooring is a great option for a number of rooms in the home where water is a consideration. For example, kitchens, basements or laundry and
mudrooms.
Water can splash from the sink. The toilet can overflow. Steam from the shower typically mists the entire bathroom at least once a day. A wet bathroom is not the exception but the norm, and water will wreak havoc on the wrong type of flooring. So while designing a beautiful bathroom may be your goal, keeping it waterproof should be your biggest concern. Here are some flooring options and the pros and cons of each.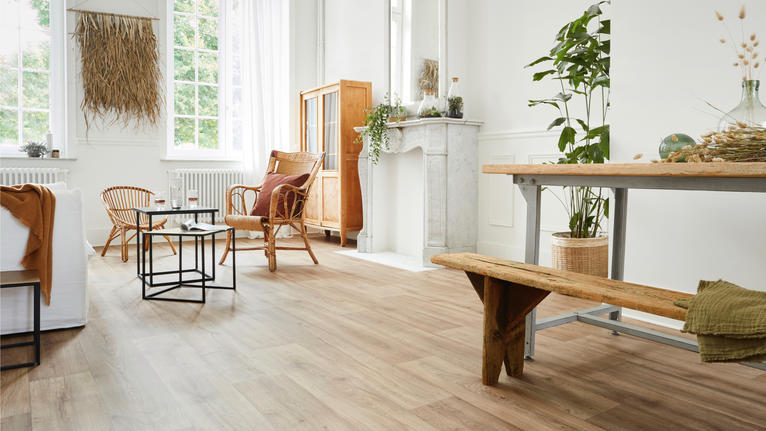 Don't do this in your bathroom

Hardwood floors are a great choice in many spots in the home. Timeless looks. Durability. Can be refinished, offering decades of great flooring in nearly every room of the home. Nearly-not all. Don't put them in the bathroom. In order for hardwoods to work in a bathroom ,they would have to be perfectly installed and perfectly sealed from moisture. Otherwise, water will penetrate, and they will rot eventually. Plus, they will need to be re-sealed with a polyurethane type coating more frequently than if they were in another room without the moisture challenges presented by a bathroom.
Laminate flooring and engineered woods are also not the greatest choices for bathrooms. While engineered wood does have real wood layers at the top, you have to ensure it is fully sealed as well. Often the material underneath the wood layers is not waterproof or even water-resistant. Such is the case with laminate floors, which typically are not great with water, requiring spills to be cleaned immediately or risk swelling and warping.
For the past decade, vinyl has surged in popularity as a bathroom flooring material due to its water-resistance, reasonable pricing, and ease of installation. This has resulted in a plethora of styles and designs flooding the market. The material comes as sheets, planks, or tiles, with sheets being the best option for bathrooms because the installation is virtually seamless, making it waterproof.
here are two types of vinyl composition: wood plastic composite (WPC) and stone plastic composite (SPC). Both are made with a waterproof core.
Both are durable, but spc is more affordable.
Remember, your flooring professionals at ULTRASURFACE can always help you navigate through options of water-resistant vs waterproof flooring and bad vs. good world of bathroom flooring. So don't hesitate to reach out before you start your project. Get ULTRASURFACE involved early and use our experience to help with planning and product selections.