Which is better WPC or SPC flooring?
Which is better, WPC or SPC flooring?
One of the lasting modern trends in home design is rigid core vinyl flooring. Many homeowners are choosing this stylish and relatively affordable option to give their home a fresh new look. There are two main types of rigid core flooring from which to choose: SPC vinyl flooring and WPC vinyl flooring. Each option has its own benefits and drawbacks that homeowners should consider before choosing between the two. Learn more about WPC and SPC vinyl floors to figure out which one is the best fit for your home.
understand the same
It's important to understand the basics about stone plastic composite (SPC) rigid vinyl flooring and wood plastic composite (WPC) vinyl flooring. These two types of engineered vinyl flooring are quite similar, except for what composes their core layer.
For SPC floors, the core consists of natural limestone powder, polyvinyl chloride, and stabilizers.
Besides the core, these two types of flooring are essentially the same makeup of layers. Here's how a rigid core flooring plank is constructed from top to bottom:
●Wear layer: This is the layer that provides resistance to scratches and stains. It is thin and completely transparent.
●Vinyl layer: The vinyl is durable and strong. It is printed with the flooring pattern and color.
●Core layer: This is the waterproof core made from either stone plastic composite or wood plastic composite.
●Base layer: EVA foam or cork forms the base of the plank.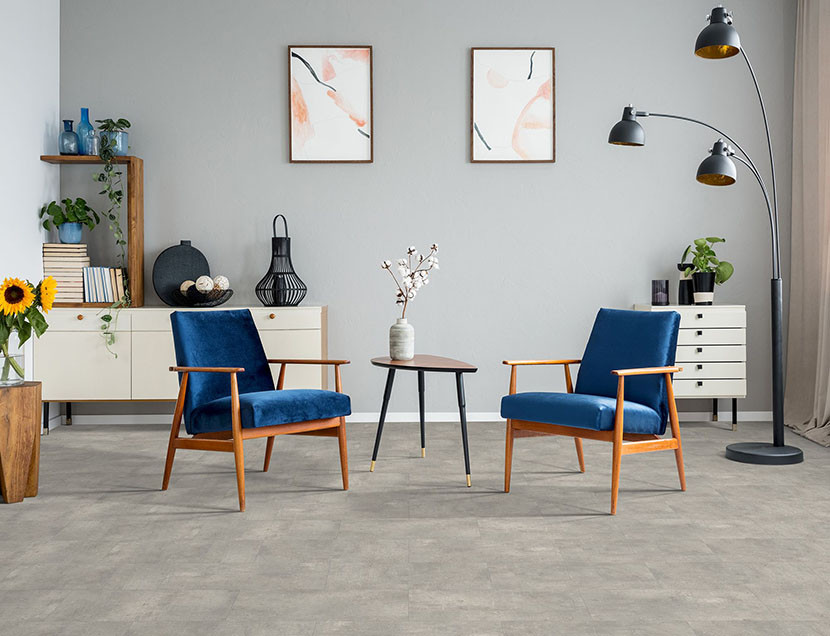 DIFFERENCES
While WPC and SPC share many similarities, there are a few differences to point out that can help you better select the right flooring option for your home.
Thickness - WPC floors tend to have a thicker core and overall plank thickness (5.5mm to 8mm), versus SPC (3.2mm to 7mm). The additional thickness also gives WPC a slight advantage in terms of comfort when walking on it, sound insulation, and temperature regulation.
Durability and stability - Both are durable and stable, however SPC is more durable and dense overall due to its limestone composition. Both work well in commercial interior spaces. WPC is softer and quieter underfoot, while SPC offers better resistance from scratches or dents.
Price - WPC can be somewhat pricey when compared to other flooring options, but it also comes with a lot of benefits, like 100% water resistance. SPC vinyl is typically cheaper than WPC, plus it comes with those same features. That's why rigid core SPC appeals to business owners so much!
Variety of WPC and SPC waterproof vinyl floors. Come visit us at ULTRASURFACE(vinyl flooring manufacturers), show you 3D SHOWROOM, and let us help you pick a beautiful new floor for your home!