5 Flooring Tips to Make your Room Look Bigger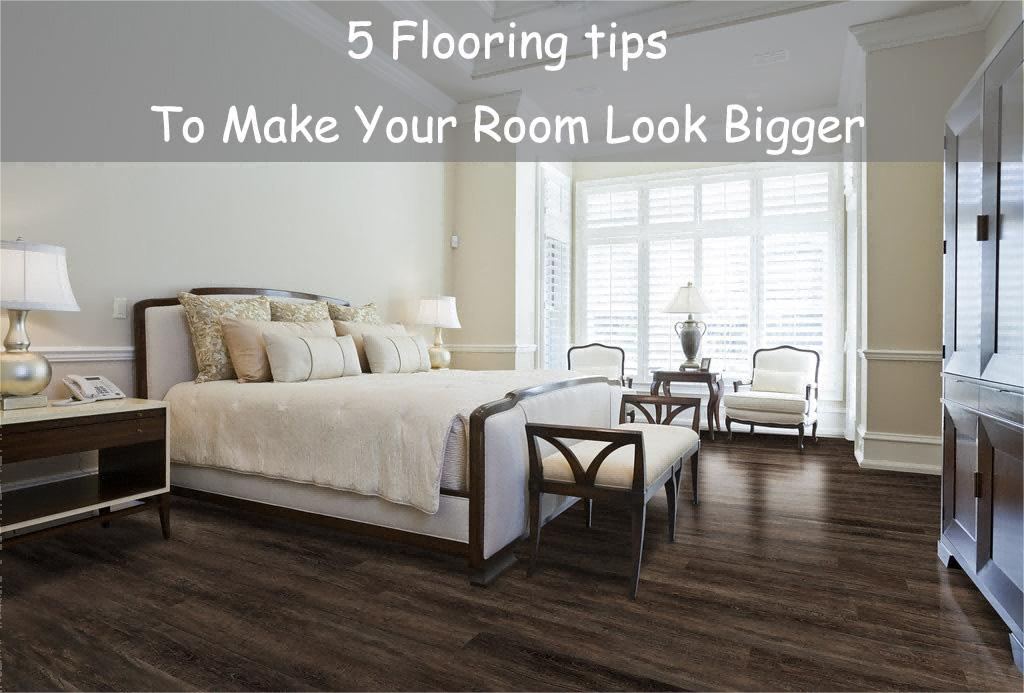 Almost Everyone wish our room looked larger. You may have tried various decorating tricks to maximize the given space, from painting walls with a light colour, to chosen sheer curtains, but making the most of out your flooring is the number one trick, to make your room look and feel bigger.
Interior designers, architects, and builders all concur that utilizing proper flooring strategies can actually amplify the appearance of a small room. In addition, the appropriate kind of flooring will improve the room's aesthetics and functionality.
What Types of Flooring Make A Room Look Bigger?

The right type of flooring can help shift the focus of a room's size towards its appeal and function too.
Here are five flooring tips to help give the illusion of a larger space in your home:
1.Light and Dark Flooring
Choosing lighter-colored flooring to compliment your furniture can expand the perceived size of any room and can open the space right up. Think cream carpets, natural and neutral-toned tiles, and whitewashed wood flooring. These attractive, light and neutral colors give a room an open and airy feel, making it appear larger, whilst also drawing in the natural sunlight from outside.
Do dark floors make a room look smaller or bigger?
You may be surprised to learn that dark wood flooring can help to make your room look bigger too. Darker flooring offers an inviting feel and opens up a space. While most interior designers will swear that using lighter colors will make the room look bigger, dark wood floors can easily make the room look bigger. Using a cool paint color for the walls can help match the effect with dark wood floors
2. One Flooring for all Rooms
Using the same flooring in several rooms in your home is proven to create a seamless effect that helps each room flow which makes smaller spaces in the home appear larger and part of something bigger.

3. Use Wider And Larger-Sized Flooring
Since your room is small, you could be tempted to use smaller-sized tiles. However, choosing flooring materials that are wider and greater in size may be a better option.
Large flooring materials create the illusion of space and therefore make a small room feel bigger. Because of it, there will be fewer seams between the planks and the tiles, which gives your floor a more spacious and less crowded appearance.
4. Try Out A Diagonal Placement

Since installing flooring in a diagonal pattern would require a lot of work and skill on the part of the installer, not too many people go for this design. However, since the corners of the space will be highlighted rather than the walls, this is the easiest way to make a room appear larger..

5. Make The Floor More Visible
Once you've decided what you need, clear out the room of extra storage to make the floor more visible. You can choose to utilize hanging wall shelves when the goal is to display objects rather than keep them hidden and stowed, maximizing the amount of floor space that is accessible.

Get ONE-STOP Solution At Ultrasurfacefloorr
Ultrasurfacefloor- China Vinyl flooring Manufacturer
With over 20 years of growth and experience, combined with thousands of satisfied customers, we consistently work to a standard that pleases our clients.
Customized your Order at Ultrasurfacefloor!
1. Dryback LVT flooring: 2mm-6mm
2. SPC flooring: 3.5mm-6mm with 1-2mm Underlayment
3. MSPC flooring:5mm-8mm




Any Interests, Pls feel free to Contact us!