Vinyl floorings - Ideal choice for the kitchen and bathroom
Vinyl floorings - Ideal choice for the kitchen and bathroom
The popularity of tiles, such as kitchen and bathroom floor coverings, is slowly declining. It is replaced by practical vinyl floorings. Why are they appropriate, what to expect from them and what to choose? We will advise you.
Kitchens and bathrooms are a specific environment - they are often damp, there is no shortage of splashes of water on the floor, and in the kitchen it often happens that some piece of dishes falls. Therefore, the floor in these rooms should be resistant to both water and damage. Vinyl flooring is exactly this type of floor covering, moreover in perfect imitations of tiles, stone, marble, wood and others.
What are the advantages of vinyl flooring?
Vinyl floorings are popular mainly due to their high durability. They are made in parts and, unlike vinyl in rolls, there is no need for the parts to be as flexible as the rolls. Therefore, vinyl flooring panels can be produced without the addition of plasticizers and are therefore harder and more durable.
Because these floors are made entirely of vinyl, with no additional underlays and boards, they are completely waterproof and you do not have to worry about water damaging them after installation. They are therefore an ideal candidate for kitchens and bathrooms. However, it is also suitable for entrance halls or technical rooms, where we also encounter moisture in the form of wet footprints or higher humidity.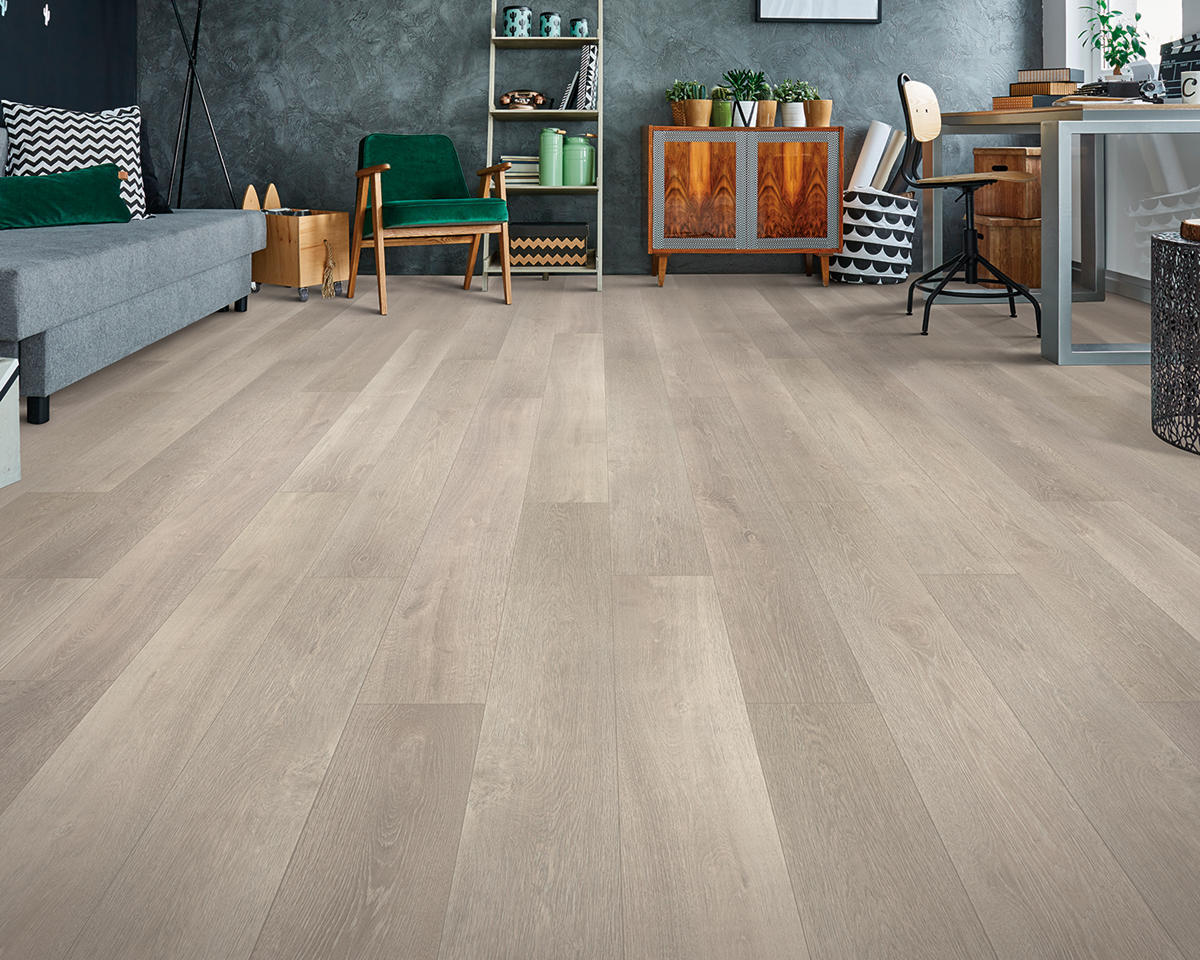 Prefer floating or Glue-down vinyl flooring?
Both variants have their advantages.
Glue-down vinyl flooring

In general, you can buy
glue down vinyl floorings
a little cheaper than floating ones. If you are tempted by the low purchase price, keep in mind that you will have to add the price for leveling the substrate, penetration and glue.
You should rather invite an expert to install the vinyl glue down flooring because perfect leveling of the substrate and work with the adhesive requires some experience. Under the glued vinyl flooring, there are no special pads for noise attenuation, but they are glued directly to the substrate, so you may encounter a higher level of impact noise.
The advantage of glued floors is their lower construction height, which is around 2-2.5 mm. If you place underlayment heating under the floor, you can be sure that the heat transfer will be very good.
In the case of floating vinyl floorings, do not be intimidated by higher purchase prices, because the subsequent investment is no longer as high as with glued floors.
Vinyl floating parts contain a milled groove, the so-called lock, thanks to which the parts fit into each other and form a firm connection after clicking. Thanks to a simple click system, even a layman can do the installation. If you want to reduce impact noise, you can also place special damping pads under the vinyl flooring. You can also use insulating pads. Some types of vinyl floorings have these underlays integrated from the factory.
The great advantage of floating floors is the possibility of replacing a damaged part. Due to the fact that the floor is not firmly connected to the base or the surrounding walls, it is possible to disassemble the floor and replace the damaged part.